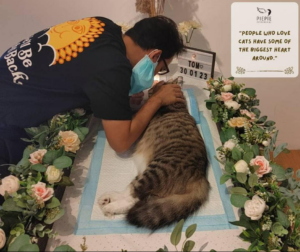 Rest In Peace Tom 2015- 3/1/2023 (Testimonial)
   Early morning, I receive an emergency call while I was driving, the only hope of a man has just left this world. At that moment, I can felt his helpless and sadness. As a pet funeral assistant in Piepie, I manage to comfort him and arrange farewell services for his pet. After minutes later arriving at Piepie, Mr.Azhar hands on his beloved Tom to me. I gently handle Tom with care and put Tom on our ceremony table and started what I am supposed to do.
Tom is a very beautiful creature due to the colors of his fur. After the cleaning process, I invited owner to do the last ceremony with Tom. Tears are tearing as if raindrops falling from his eyes as seeing Tom left made him so empty. Besides, he asked me if he can touch and kiss his kid liked he always did for one last time.
   During the farewell ceremony, he apologize to Tom for not being able to send him immediately to hospital for the rescue. He also appreciates and thank Tom for being his best buddy all these years by telling how he and his wife has so much attachments towards him.
   At that moment I was touched, every inch of his actions is filled with love and affections while he was kissing and combing Tom's fur. I realized the Chinese language of love which is "爱", there's a word in the middle "心" which means heart. This shows that humans and pets has no language barriers or obstacles, is a bond and trust among each other. It is a feeling full of love.
Furthermore, he plead us to give the best journey and care to Tom before he left the office.
The purity and beautifulness of this love between the owner and pet has deeply affected me today and ever seen in my life, I still think that this world is beautiful after all.